While out hiking with friends recently, I noticed my friend wore wading boots. That struck me, and I wondered: can you hike in wading boots?
At the end of our hiking trip, I went straight into research mode to try and find out the answers to my question. To my surprise, the answer was a simple:
Yes. You can hike in wading boots. Wading boots are not just like any other boots. They are specifically designed to withstand harsh environmental conditions like hiking. Their unique features make them ideal for the harsh conditions.
But what are these unique features and the design? Let me take you through wading boots in details to understand.
What are wading boots?
What are wading boots? Apart from wading, what are the unique features that make them ideal for hiking? Wading boots refer to waterproof boots that extend from the foot to the chest or even the neck.
However, there are wading boots that are designed to be worn just on the feet like any other shoes. In such designs, the pieces that protect other body parts have to be purchased separately.
The design of wading boots
The material of these boots is mostly vulcanized rubber. In the latest variants, though, the boots feature PVC, Gore-Tex, or neoprene material. The soles of these wading boots are mainly rubber which has quality traction features.
Other designs feature different sole types. For instance, there are stud soles that allow you to screw studs on your wading boot soles for extra traction.
In other wading boots, they have felt soles. However, the use of this soles has been decreasing over time due to their characteristics. They dry relatively slower than the other types which allow certain species to grow in them. Continuous usage of such boots encourages the spread of organisms in water bodies which can kill fish species.
One common feature that you will find in wading boots is that they are waterproof. Thus, when you wear them, you have an assurance of comfort as well as the prevention of sand and water from flowing inside the shoes.
Where can you specifically use wading boots?
I find wading boots ideal for various uses, such as gardening, fishing expeditions, or even waterfowl hunting.
There are other variants of wading boots that you may find in industries such as agriculture, chemical, and aquaculture industries.
Hiking boots
On the other hand, what are hiking boots? What are the specifications that make these boots ideal for hiking?
Hiking boats refer to specially designed boots whose design offers protection to the ankles and feet during hiking.
The design of hiking boots
Most hiking shoes are of different materials that offer comfort to the wearer. For instance, you can have a hiking boot of nylon, split-grain leather, or full grain leather. Nylon and split-grain leather offer lightweight feeling and durability to the wearer.
Such hiking boots incorporate mesh panels that facilitate breath ability to the feet while hiking. Also, you can always hike during the rainy season thanks to the availability of a waterproof breathable membrane.
Full grain leather hiking boots are quite expensive but are worth the price. They are weather resistant so regardless of the weather, you are always good to go. These hiking boots are however heavier than the conventional hike boots.
The sole is another critical aspect of hiking boot that makes them ideal for hiking. The insole consists of a soft cushion that you can easily replace when it wears out.
Then we have the mid sole which is a shock-absorbent layer which helps eliminates effects of rugged terrain. A wide variety of materials are used to make the mid sole including injection-molded and polyurethane.
Between out sole and the mid sole, you will find the shank whose function is to offer torsional stability. The shank is of a steel or composite material. However, if your hiking boots are high, then the likelihood of them lacking this piece is high.
Lastly, you have the out sole. For hiking boots, the out sole is of thermoplastic polyurethane or synthetic rubber. For hiking purposes, these out soles of these boots have high traction for grasping the terrain properly, which helps ensure you don't slip while hiking.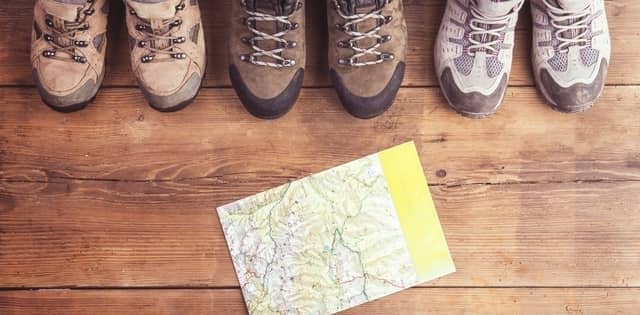 Differences between wading and hiking boots
Remember hiking boots offer protection while at the same time comfort while hiking. As such, there are extra features that you will find specifically in these boots.
For instance, you have the rand which is a strip of rubber guard running on the boot's outer edge. The rand's design is to offer reinforcement and protection of the high-wear areas of your boots.
Another great feature of hiking boots is that they have hiking boot linings. It is common for feet to get sweaty while hiking, which can be uncomfortable. However, hiking boot linings offer comfort by absorbing the sweat. Compile this with a pair of moisture wicking socks and you now have just added extra protection to keeping your feet dryer along the trail.
Click the link below for more details
Outdoor Socks: The Ultimate Moisture Wicking Guide
Similarities between hiking boots and wading boots
Having looked at these two types of boots, you will agree with me that you can use either of these boots for hiking.
But what makes wading boots ideal for hiking? Well, several features make them ideal. Some of these features include:
1. Sole
The out sole of wading boots usually is of a rubber material. These materials offer excellent traction, especially in rough terrains.
In other instances, the soles have studs which allow you to screw the studs on the soles. Studs offer much better traction especially if you are hiking on a mud terrain.
2. Outer material
As I have illustrated above, wading boots usually are of vulcanized rubber or PVC material.
I have to agree here that these materials are not ideal for hiking especially during sunny days. Hiking in them may result in painful burns on your feet.
However, they are an alternative when hiking during the wet season as the warmth inside is compensated with the cold weather.
3. Weight
For hiking purposes, you need boots that are comfortable and easy to hike while wearing them. I find some brands of wading boots lighter and comfortable to hike on.
Like my friend's boots, he was ahead of me the entire hiking period.
4. Breathable boots
While hiking, you want boots that your feet can breathe and relax in. There are certain varieties of wading boots that have a breathable feature enabling your feet to breathe.
5. Waterproof
You don't want your feet to soak when hiking in wet terrain and that is what wading boots offer. The waterproof feature allows you to hike without necessarily getting wet.
Lastly, if you are going hiking and fly fishing at the same time, then you might consider wading boots. You won't have to carry different boots for the trip.
Just pack your wading boots, and you are good to go.
Bottomline
I have taken you through the reason why I concur with my friend's choice of hiking with wading boots. I hope you get to try it out next time you are out hiking.
However, remember that you will have to consider all the necessary specifications before purchasing your wading boots. Also, consider the weather conditions before deciding on wading boots for hiking.