Ice skating
Some people hibernate during the winter months. While staying warm and cozy is always tempting, others find ways to enjoy the brisk winter weather. Ice skating is a great way to get outside and enjoy the winter weather!
Lots of people go ice skating for recreational purposes, sports, exercise and even travel exercise. It is an activity that can be done both indoors and outdoors depending on the ice surface and how specially prepared it is. Ice skating can be done in arenas, parks, frozen surfaces such as rivers, ponds, and lakes, and also on tracks.
Even though there isn't a lot of gear in ice skating, it's important to take care of your ice skates so that they last longer. It's most important to keep water from getting in between the blade mounting plates and the sole.
In my own experience with my first pair of skates, I did not remove the blade on day one and waterproof underneath. After 6 months, I found that a couple of the screws just would not hold in the leather anymore and discovered that the leather was pretty broken down underneath the blade. This is no doubt a result from water getting trapped where it could not be wiped away.
Waterproofing your ice skates is important for two reasons: 1) Taking care of your ice skates means they will last longer, and 2) Having waterproof skates means that your feet won't get wet from the ice. And keeping your feet warm and dry is important, especially in cold weather.
You can waterproof your leather skate boots as follows:
The leather should be clean and dry. To avoid rusting on the blades, ensure to clean them properly after every skating session and always leave them dry. This can be done by using a household hair dryer to warm the shoes and then rub in the Sno-seal liberally. The leather practically absorbs Sno-Seal if it is well applied.
Remove excess with a cloth.
Applications should be made 3-5 times at the time of purchase. Let soles cool in between applications.
After two weeks, another application can be made using the same method. At a minimum, this should be done once in every month.
To cover scratches, simply use Edea polish.
When to waterproof
Newer skates are coated with polyurethane or another similar coating, so they don't need to be waterproofed quite as frequently. Over time, however, this coating wears off, so your ice skates will need to be waterproofed more frequently the longer you have them and the more you use them.
You can test if your ice skates need to be waterproofed. Just sprinkle a little bit of water over the sole and the heel. If the water soaks in, or there are dark spots from the water, the skates need to be waterproofed.
Another way to tell if your skates need to be waterproofed is to take a look at them closely every time you get off the ice. Is the leather dark and wet?
This following would help determine when to waterproof.
If the bottoms of the skates are plastic/pvc, you don't need to waterproof them.
If the bottoms of the skates are leather, but have a layer of plastic/PVC on the sole, waterproof the sides and any nicks/scratches in the sole.
If the skates are all-leather, waterproof before the blades are attached.
Only waterproof as needed – when you see the leather's absorbing water from skating, it's time to get out the hairdryer.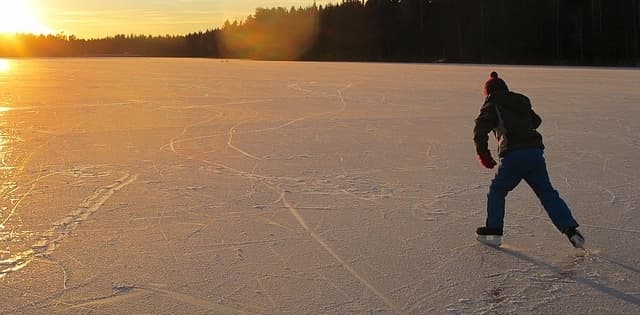 Waterproofing recommendation
For waterproofing your ice skates, you can try Beeswax Sno-seal. It protects the leather from rain, sun, snow, and salt. Sno-Seal is a great option because its unique beeswax formula enables longetivity and durability of the leather, which is made possible by the dried solid wax that sticks to the leather surface.This does not suffer similar defect as other products such as greases, oil, and animal fats which are able to migrate through the leather and clog all the pores.
It is also advisable to have a skating shoe with real leather as the comfort of real leather will never be matched because of its combination of strength, support, breathability, absorbency, elasticity, warmth, and feel. These features of the skates can easily be maintained by proper care because its proper care will lead to its longetivity.The upper or shoe must provide correct support to maximize performance and reduce injuries.
Sno-Seal is quite important especially when you need your boots to be dry, warm, and light.  
A normal leather boot can soak up to about a pound of water. Who wants to skate around with a wet soggy skates slowing them down and adding extra weight? Sno-Seal does the job of keeping the boots dry and light enough to skate with.
Application and maintenance tips
Sno-Seal has simple application instructions you can follow such that you should be able to come up with your own way of applying it to suit your taste.
Before applying Sno-Seal, ensure you preheat and clean your boots thoroughly. You can preheat your booth with a hair dryer, or under the sun or even a heat lamp. However do not heat boot beyond 120F degrees.  The boot is preheated to yield best results.
Apply Sno-Seal to boot by rubbing it into the leather. The leather will melt the Sno-Seal because of its warmness. The Sno-Seal is now absorbed deep into the pores and fibres of the leather. One magical thing about Sno-Seal is its ability to melt at 155F such that it doesn't leave the leather even on the hottest days.
Squeeze some of the wax out onto the leather. A good tip is to use a plastic baggie to spread it around on the boot, which keeps your hands clean. Heat up the boot again with the hairdryer, so that the melted wax is soaked up by the leather.
Ensure you apply just enough Sno-Seal to the leather. Apply as much as it can absorb and then wipe off the excess wax with a rag then use a brush to rubb on the surface to so as to shine properly. You can maintain colors and high gloss by applying the Sno-Seal over the regular shoe polish, as it still brings out the colors properly.
Apply only to the outside of the boot (soles and the entire outside of the boot).
Cleaning your ice skates
You can use a soft cloth and a little soap to clean up the outside of the boots. A Mr. Clean Eraser works great if they're really dirty. And if there are any really tough spots, try using a little bit of baking soda.
You can touch up any little scratches or nicks by using white out or a white paint pen before you polish them. Once you've clean them and filled in any scratches, polish them up using white shoe polish. But avoid getting the white polish on the soles, as it's very hard to remove.
Use towel-like soakers to store your blades in after drying skates. These soakers automatically draw off even the tiniest bit of moisture left in your blades. The cushion also provide a soft haven for your blades to sit properly in your bag. However do not leave blades where it can be easily rusted because of exposure to moisture, places like the inside of plastic or rubber skate guards.
If you're only skating seasonally, make sure that you waterproof your skates before you store them, because it helps to protect the leather. To protect the blades while they're in storage, put some WD-40 or Vaseline on the blades before you put them away.
If you're skating year-round, you'll want to waterproof more often, at least 2 or 3 times a year, or when you notice the leather getting water marks.
Also, another thing to note is, after use, make sure to untie the laces and open them up to let them air out properly. Moisture can get trapped inside the boot from your feet sweating, which can cause the inside to get stinky and nasty. Check out this article for how to fix stinky skates
As soon as you get home from your skate, be sure to take your skates out of your bag and let them dry out properly. It may be tempting to put them near a fire or radiator, but don't! This can dry out the leather too much.
Taking care of your ice skates means they'll last longer and will keep your feet warm and dry. This will make your ice skating adventure even more enjoyable! Another thing to consider to keep your feet warm and dry is that you're wearing the right pair of socks.
Depending on the level of ice skating activity that you're participating in, you may be working up quite a sweat! The right pair of socks will help absorb that sweat away from your skin, which prevents chafing and also prevents your feet from feeling chilled. This complete guide provides a ton of useful information about selecting the right kind of socks for your winter activity.
So instead of hibernating this winter, consider grabbing your ice skates and heading out to enjoy the winter weather. And taking a little bit of time to waterproof your skates will make your outing even more enjoyable!