Ok so this year you decided to upgrade your winter work boots to something warmer, lighter, and waterproof, and you invested in a pair of new industrial rubber work boots to take your feet from feeling ice cold and numb to like walking on a beach in Hawaii with palm trees.
Well, maybe not quite the same feeling, but pretty close if you have ever experienced working outside in winter without the proper footwear. In this guide we tackle everything you need to know on how to maintain, protect, and repair your newly purchased industrial rubber work boots. This ultimate maintenance and repair guide is full of helpful tips and tricks. So, let's get started.
How to Avoid Objects that Could Puncture Your Rubber Boots
It's easy, right – just watch where you're walking and always have an eye out for objects that you think might cause you or others harm to your boots. And if you find something, dispose of it because chances are if you don't, there's a good chance that it will cause an issue at some point. Really, it's about just taking the time to look around in the area you're always working and walking in, which will help a lot.
Quick tip: Don't let the true story below happen to you
A fellow worker went out over the weekend and bought himself a brand-new pair of Dunlop Purfort work boots for the winter months. He literally just put them on walked down into the trench where we were working and in a matter of seconds he managed to puncture his newly bought $300 Dunlop's on a nail that hadn't been properly taken out of a piece of wood.
Guess who had to put a plastic bag on his foot for the rest of the day until he could repair it? One thing is for sure, when wearing industrial steel toe rubber boots on site, they are not puncture resistant and they will tear, rip, and even develop holes quite quickly. So just take the time and be aware of your surroundings. You want your investment to last.
How to Maintain Your Rubber Boots So They Last Longer
After a hard day of working 8, 10, or 12 hours outside, you're probably wondering who in their right mind thinks about cleaning their work boots off after work each day. You're tired, dirty, hungry, and, depending on the weather, either sweaty or freezing. Actually, sometimes both. The last thing you're thinking about is cleaning the boots you've worn all day.
And if you're like me, you would just look for the closest puddle to rinse them, or bang them together a few times and be done with it. This method changed for me when I invested in a decent pair of boots and I wanted them to last longer and get more use out of them.
With the cost of these boots being in a higher price range, taking the time out before coffee break or when you get home to run your boots over a Mounted Floor Boot Brush that you can fasten to a piece of wood or concrete will aid to maintain their proper form and prolong the life of your boots.
Quick Tip: Try mounting one of these to a couple pieces of 2×6 and then you can take with you to the cottage, Hunt Camp, or Trailer
Now to get really technical here, using just water simply isn't enough to clean your boots. At this point I can almost see you laughing but sometimes you will need to go the distance to get all the construction debris off. Dish-washing soap, or liquid soap, are a perfect choice for washing off dirt and oily grime from your boots. Simply scrub on with a small brush, let soak for a couple of minutes then wash off with warm water. But be careful not to get water inside your boot unless you won't need them right away, as it's a long drying process!
Quick Tip: Don't leave your boots drying in direct sunlight, which includes leaving them in the car or by a window where sunlight can stream in. This can damage the rubber and end up doing more harm than good!
It's important when you're giving your boots a thorough clean to pay attention to the tread on the bottom. When you're cleaning your boots with soap and water, get a little toothbrush or equivalent small brush and make sure you get into the grooves on the bottom of the boot. Now's also the perfect opportunity to get rid of any stones or gravel that may have been lurking in your boot's treads for quite some time!
Does Polishing your Rubber Boots Help to Protect them
I'm going to say yes because anything you do regarding cleaning your boots will help to prolong their use for years to come.
If you choose to buy a higher end rubber boot brand you're paying for top quality materials. This means that your boots will be very durable if you regularly clean them.
Look at it like when you polish and wax a car, it does add a layer of protection. In some makes of rubber boots, the rubber will form a white powdered film all over the boot. This is called blooming and is quite common with the Hunter brand of rubber boots. Grangers offers a great rubber boot care spray that focuses on removing the blooming from your boot while also adding a layer of protection.
Just note, blooming does not affect the quality of your boot. You must make sure to leave your boots to dry after applying the spray.
Quick Tip: If you're looking for a natural alternative, a cloth with a few drops of olive oil will remove the blooming from your boots. This also helps with any scuff marks that you may have on your boots.
Does Waxing your Rubber Boots Help to Protect them
Yes, once you've cleaned your boots it's important to get them looking shiny and healthy. Armor All is a great brand that you can use to help with buffing. For something quick and simple, wax wipes will give your boots a bit of shine as well as providing a layer of protection. The wax helps to keep scuff marks and dirt from sticking to your boot.
Quick Tip: Also, it's important not to use shoe cleaner on your rubber boots. The chemicals in shoe cleaners are harsh and not specifically designed for a tough rubber and may end up damaging your new boots.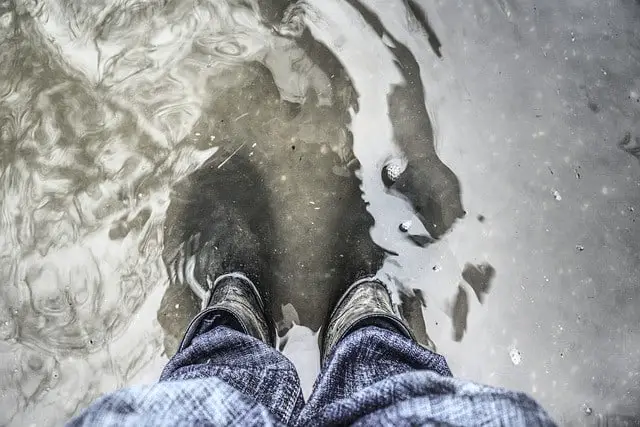 How to Clean and Eliminate Odor Inside Rubber Boots
As most people wear their work boots all year round, it's also important for you to take into account the odor of your boots. Your work mates will appreciate this too! Grangers offers an odor eliminator spray that is specifically designed to neutralize odor quickly.
Keep in mind that if your boots are insulated to keep your feet nice and warm, it removes the airflow that your feet may get so your feet will sweat a lot and this will add greatly to an unwanted smell.
But if you're not after a chemical fix, you can simply try sprinkling a teaspoon of baking soda into the bottom of your boots every night and let them sit. In the morning get rid of the excess baking soda and your boots should be all good to go!
Water buildup inside your boot can not only cause odor but can damage the material inside. If you find the inside of your boot damp, simply stuff with absorbent paper. This can be as simple as grabbing some newspaper and letting it soak up the water. Allow your boot to dry for a while to not damage the inside.
To add to your daily cleaning routine, you can pick up some moisture absorbing sachets. These are super affordable, and you can get 50 packets fairly cheap. Just pop a couple into your boot and leave them for a few hours – just remember to take the packets out before you put your feet in your boots.
Quick Tip: If you need a quick fix to a water problem, grab a hair dryer. Make sure that it's set to a low setting. Hold the hairdryer at arm's length from the boot to prevent any cracking or splitting or click here for Top 5 boot Dryers for 2019
It shouldn't need to be said, but always wear socks when wearing your rubber work boots! This not only protects your feet from bacteria and material that may fall into the boot, but it helps to keep the interior of the boot fresh and lasting longer.
Quick Tip: If you're not cleaning the inside of your boots on a regular basis the bacteria that's inside your boot can cause cases of athlete's foot which might even keep you from work. So, it's important to properly clean the inside of your boots.
For more info on this check out 7 Tips to keep your feet dry inside rubber boots.
How to Store your Rubber Boots
It's important to maintain the structure of your rubber boot. Don't leave your boots folded or squished when you're finished with them. Especially when taking your boots off, be careful not to trample all over them but to keep the rubber nice and flat. Storing them on a good solid boot tray will also help with keeping any debris contained from entering living areas.
If you don't keep them flat, you could end up creating cracking in the boot, which will lead to the need to repair them. Daily maintenance on your boots can be a tiring process after a long day of work, but as you can see, it's extremely important to get rid of any materials left on your boots that may damage or degrade the rubber.
Daily, monthly, and yearly cleaning and protection of your boots will ensure that you get your money's worth out of them. No one likes to replace their boots every month, so with these few tricks your boots should last you a lot longer.
But let's say you do develop a crack and one of your boots needs repair… Well you're in luck because below in this next section I'm going to outline some of the steps involved for you to make your own repairs to your own boots. So, let's dive in.
If you're wearing your rubber work boots often enough you may need to do some repairs on them from time to time. Most repairs are easy enough to do and will save you from spending more money on a new pair of boots!
How to Fix Cracked Rubber Boots
It's not that hard to patch a hole or crack in a pair of rubber boots. If anything, it is just time consuming. And if the repair is applied right you won't need to purchase a new pair of boots.
Wear and tear, including water damage, can have lasting effects on your boots which may result in cracks. A well-known area is the ankle bend, as this will receive high stress as you constatntly bend your legs during the day. Sharp objects can also penetrate the rubber of your boots and cause holes. It's an easy fix! All you need is urethane adhesive glue and masking tape. Urethane adhesive works best rather than ordinary glue as it is specifically designed for sealing and bonding, perfect for fixing rubber holes!
To start, give your boots a good scrub down and place the masking tape around the hole to seal off the area from the rest of the boot. Then simply apply the glue on and around the crack, extend the glue about 1-inch from the crack as to ensure re-cracking won't occur later on. You may want to place paper or a sponge on the inside of your boot to help protect the inner lining from too much excess drip down glue. Remove the tape and let the boot fully dry for around 24 hours.
Quick Tip: If you want the seal to be extra tight, grab a fine piece of sandpaper to rough around the edges of the crack to help the glue stick better. Also, make sure to roll a can of soup over it to flatten it out and get rid of any air bubbles.
If you're looking for a quick fix while you're at work, I would suggest carrying around some patches with you just in case. A lot of people will suggest tire patches to fix the cracks in your boots, but car tire inner tube patches work a lot better. Because of the flexibility of the tube patches they help to bend naturally with your boot. Tire patches can get quite stiff and no one wants to feel uncomfortable all day. Tube patches are very cheap.
Quick Tip: If you're working in a remote area make sure to take some tube patches with you just in case you spring a leak in your boot.
You can either use adhesive tube patches, or repair with glue. If you're gluing just cover the crack in glue. Make sure you extend the glue past the edges to prevent further cracking. Then place the patch over top, push down firmly and rub it down so that it firmly sticks. Make sure that the edges are sealed down properly so that water can't get in and lift off your patch. Let it dry for a couple of minutes then you're good to go.
If you get a crack in your boot, it's important to attend to it quickly, especially if you're working in wet conditions. If too much moisture gets into your boot it could result in separation or damage the inner lining of the boot. Wet conditions can also cause splitting in your boot as it wears down the glue.
How to Fix Your Rubber Boot Sole if Separation Occurs
In the rare occasion that the sole of your boot will split from the inner, glue may also be your savior. Regular adhesive glue will work just fine, however if you have urethane glue left over there's no harm in putting that in. Simply wash your boot to remove any dirt (wait for it to dry!), fill the split with glue and use a c-clamp to firmly apply pressure. The glue may take a couple of hours to set so leave the boot in a dark, dry place to allow the glue to set. Likewise, with the cracking, grab some sandpaper and briefly roughen up around the split, this will help the glue to adhere better.
What is the Best Glue for Rubber Boot Repairs
Well one thing is for sure there are many glues and adhesives to choose from out on the market today, however the Table below is all you'll need to make your own decision. And to get the job done right the first time.
What is the Difference between Adhesives and Glue
There is no real difference at all – they are both the same and technically serve the same purpose.
Quick Tip: Remember to make sure the glue you choose is waterproof. Due to the harsh chemicals, apply the glues in a well ventilated area, and always wear gloves.
I will add that BootFix is highly recommended in the industry because it will adhere to your boot without the need of a clamp. So, it saves you time and money. It also can withstand all weather types so if you're working in the cold or the heat you won't need to worry about your boots re-cracking. It may be a little more expensive, but you'll save money (and your time!) if you're not having to constantly re-glue your boots.
Boot and Shoe Repair Shops
If you're unsure about repairing your boots yourself, you can take them into your local boot and shoe repair place and they can fix your boots for you. These can get a little pricey but if the crack or split is out of your depth then it may be the best option for you.
Conclusion
It's important to understand that unfortunately not all boots can be saved. You should replace your Industrial rubber work boots if you see the signs of a recurring separation between the sole and the boot. This also relates to the tread of your boot – if the treads are smoother than they should be then there is not enough glue in the world that can turn those into safe boots. This can create a dangerous work environment for you as your boots are no longer sturdy and won't support you. If this has already happened your boots may be telling you that it's time for new ones and to retire the old ones.